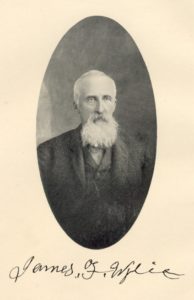 JAMES F. WYLIE, devoting his time and energies to general agricultural pursuits in Montague county, has lived in this section of the state since the period of its pioneer development and has not only been active in business affairs but also in community affairs and three times served as commissioner of the county. He was born August 23, 1840, in Franklin county, Alabama, and traces his ancestry back to Ireland, his paternal grandfather, James Wylie, having been brought from Ireland to America when only six years of age. The family home was established in Virginia and later he became a resident of Alabama when it was yet a new and undeveloped country. There he purchased land and improved a farm, making it his home throughout his remaining days. He owned an excellent plantation and his enterprise and business activity made him one of the reliable citizens of the county. In later life he gave all of his slaves their freedom. At the time of the Revolutionary war he became a member of the continental army and fought for liberty. He never aspired to political honors nor office and lived a life in consistent harmony with his professions as a member of the Presbyterian church,. He had eleven children: James, Thomas, William, Elias, John, Samuel, Ezekiel, Marcus, Mrs. Jane McCulloch, Mrs. Sally Culberson and Adeline.
Of this family Marcus Wylie was born in North Carolina and when a young man went with his parents to Alabama, where he was married to Miss Elizabeth Wood, a daughter of Isham Wood, a leading farmer and slave owner of his home locality in North Carolina. He, too, was one of the heroes of the Revolutionary war and he died in middle age. In his family were four children: Martin, Thomas, Mrs. Mahala Richardson and Mrs. Elizabeth Wylie. After the death of their father, the mother married again, becoming the wife of Benjamin Arnold, an agriculturist, and they had three children: Dewitt C.; Anne, the wife of James Landers; and Jane, who married John Seawood.
Mr. and Mrs. Marcus Wylie took up their abode upon a farm in Alabama and for many years the former devoted his time and attention to agricultural pursuits. He passed away, however, at a comparatively early age, dying in 1846 at the age of forty-four years. His wife survived him and with a most tender care and devotion reared her family to lives of honesty and uprightness. She passed away in 1867 in the faith of the Primitive Baptist church, of which she had long been a devoted member. In the family were: Mary and Adeline, both deceased; Anne, who died at the age of ten years; and James F., who is the only one that ever married and is now the only survivor of the family.
James F. Wylie was only about six years old at the time of his father's death. His educational privileges were limited, but in the school of experience he has learned many practical and valuable lessons. He remained with his widowed mother until he attained his majority and then in 1861 went to Arkansas for the purpose of spending some time with an uncle. While there he joined the Arkansas state troops, the state at that time yet remaining loyal to the Union. He remained with the state troops for four months, took part in the battle of Oak Hill and afterward returned to his uncle's home. In the meantime the state had voted for secession and Mr. Wylie then enlisted in the Eleventh Arkansas Infantry under Captain J. Moss and marched to Island No. 10, taking part in the siege there until the Island surrendered and all were made prisoners. Mr. Wylie did not relish the idea of being made a prisoner and early in the morning after the order for surrender was read he started for a drink of water. Seeing a hollow cypress tree, he crawled into it and pulled a piece of the tree over the opening. There he remained all day, coming out at night, and in the meantime the command had been sent to Camp Douglas at Chicago. Exerting his ingenuity again he managed to get a canoe and make his escape into Tennessee and on to his old home in Alabama. After remaining there for a short time he joined the Sixteenth Alabama Infantry under General Bragg and took part in the campaign in Kentucky, including the battle of Perryville. Later the regiment returned to eastern Tennessee and participated in the battles of Murfreesboro and Chickamauga, at the close of which only eight of his company remained. Learning after this battle that his original regiment had been exchanged he then joined the Eleventh Arkansas Infantry and throughout the remainder of the war was largely in Mississippi, being at Fort Adams at the time of General Lee's surrender. He was there regularly paroled and returned to his home. At the battle of Chickamauga he was slightly wounded by a piece of shell which struck his heel when he was in the act of taking a step and he was thrown down. His wounds at that time and on other occasions, however, were slight and he was never a prisoner of war, but he saw hard service in the front ranks and underwent many deprivations such as constitute the life of a soldier.
When the war was over Mr. Wylie spent a short time at home and then started for Texas. He had spent all of his money on reaching Upshur county and he there rented a farm and engaged in its cultivation. In December, 1866, he married Miss Josephine Gingles, who was born in North Carolina in 1845, a daughter of John and Clementine (Purvine) Gingles. Her father, a native of North Carolina, was a farmer and slave owner who removed to Upshur county, Texas, in 1859, where he engaged in farming. Later he retired to Mount Pleasant, where he lived in the enjoyment of a well earned rest until his death in 1885. He held membership in the Presbyterian church. His daughter, Mrs. Josephine Wylie, has a brother Charles, now living in Titus county. Her father, however, was married four times, but only had three children.
Following his marriage Mr. Wylie remained in Upshur county. He purchased a small tract of land in 1873, when he arrived in Montague county, and took up his abode at his present place of residence on which he has remained since, and now owns two hundred and ten acres in Willowally valley. This was raw land and he began the development of a farm property. The country was sparsely settled and wild game was plentiful. Wild animals were also frequently killed and it seemed that the work of improvement and progress had scarcely been begun, but Mr. Wylie placed his land under cultivation and added to it. Later, however, he sold some of his farm, but he yet owns the original purchase and homestead. As the years have passed, through the capable conduct of his agricultural interests, he has acquired a comfortable competence for the evening of life. He owes his prosperity entirely to his won well directed labors and, brooking no obstacles that barred his path to success, he has worked his way steadily upward, showing that prosperity is not a matter of genius, but is the outcome of clear judgment, experience and determination. He is one of the influential men in the local ranks of the Democracy and for three terms capably served as county commissioner, winning high encomiums from the general public. He has also served on the grand jury of the county and the federal grand jury at Dallas and Sherman and is always loyal to his duties of citizenship. He belongs to the Methodist church, in which he has served as trustee for many years and his fraternal relations connect him with the Masonic lodge. He has a pleasant home, conveniently situated a mile and a half south of Hardy in Willowally valley. The house stands upon a natural elevated building site, overlooking the farm and valley, with fine mountain scenery in the distance. He has here a commodious frame residence and all the necessary outbuildings for housing stock, grain and other crops. Water is piped to different parts of the farm, the motive power being a good windmill. There is also an orchard of fine fruit and one hundred and fifty acres of the land is under cultivation, but Mr. Wylie now rents this tract, giving his attention to his general business interests.
Source: B. B. Paddock, History and Biographical Record of North and West Texas (Chicago: Lewis Publishing Co., 1906), Vol. I, pp. 453-455.