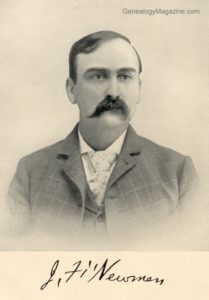 In the careful conduct of extensive business interests Mr. Newman has attained wealth and is justly regarded as one of the most prominent, enterprising and successful business men of western Texas. So far as can be ascertained the Newman family came from Virginia. Moses Newman, the grandfather of J. F. Newman, was a native of Tennessee and in his family were seven sons and four daughters, all of whom were born in Montgomery county, Arkansas, were he had taken up his abode in early manhood. There he was married and reared his family, the lady of his choice being Miss Betsey Collier, a native of Arkansas. Of their children three are yet living: Martin, who resides in Sweetwater; Jeff, who makes his home in Fisher county, Texas; and Mrs. Polly Rushing, who is living in Navarro county, Texas.
Martin Newman was born in Montgomery, Arkansas, March 12, 1827, and when about twenty years of age was married there to Miss Elizabeth Polk, a relative of the prominent Polk family of Tennessee. Her father, James Polk, was a native of that state and was a distant relative of James K. Polk, president of the United States. Martin Newman continued to make his home in Arkansas until 1850, when he removed to Texas, settling in Navarro county. There he lived for a number of years and in 1884 took up his abode to the present time. Throughout his entire life he has engaged in farming and the stock business and his well conducted interests have brought to him a gratifying measure of prosperity. His wife, who was born May 7, 1828, died in Nolan county, September 7, 1904, when seventy-six years of age. She had one son and one daughter who reached adult years: J. F. Newman, of this review, and Mary Jane, who was born November 16, 1855, in Navarro county, Texas, and is now the wife of Thomas Trammell, of Sweetwater, this state.
James Franklin Newman was born in Montgomery county, Arkansas, December 20, 1849, and was reared upon a farm. He had little opportunity for acquiring an education and from his boyhood days has been dependent upon his own resources. He early realized the value of industry and perseverance and those qualities have been the foundation upon which he has builded his splendid success. As the years have passed he has accumulated considerable wealth and made judicious investments in various ways. When a young man he started in the cattle business, in which he has continued up to the present time and he is now one of the large cattle dealers of western Texas. For the past few years he has given his attention to the raising of fine stock and in addition to his splendid herd of cattle he also raises fine horses. He has extensive landed possessions in the western part of the state, principally in Nolan and Fisher counties. His handsome residence in Sweetwater was erected in 1883 and here he has since made his home. In all his business undertakings he has been energetic and diligent, manifesting keen discrimination and foresight, nor has his path been strewn with the wrecks of other men's fortunes.
On the 4th of September, 1873, Mr. Newman was united in marriage to Miss Josephine Rushing, who was born in Navarro county, Texas, October 12, 1858, and is a daughter of Calvin Rushing, a native of Tennessee and an early settler of Texas. In their family there are three sons: Alfred Thomas, born October 14, 1874; Harrtar Silas, born December 30, 1876; and Ira Moses, born March 27, 1887.
Mr. Newman has taken considerable interest in political affairs, especially in the local work of the party. He was elected sheriff of Nolan county in 1890 and filled the office for six years. This has been his only public service as an office holder, though he is a champion of all progressive measures and has given hearty co-operation according to his time and means to various movements and plans for the public good. He came to Texas in 1879 and since that time has been deeply interested in the work of up building and improvement in this state. From early boyhood his life has been largely devoted to the cattle industry and he is perfectly familiar with all the intricate details of the business. His long rides upon the open range, the cow boy camp, the round up and the riding of the lines have made him thoroughly familiar with the business and he has thus enabled to conduct his interests and profit. His herds are among the finest in the country and aside from the raising of cattle he is probably engaged in the raising of blooded horses on a more extensive scale than any other man in this immediate country. Some of his horses are noted animals and have made records where they have been entered in all the large circuits of the country, including New York, Chicago, Saratoga and New Orleans. He pays special attention to the breeding of fine stock and on his ranch may be seen some splendid specimens of the noble steed. Mr. Newman has made a reputation as a stock breeder that is known throughout the entire country. To say that he has risen unaided from comparative obscurity to rank among the wealthy men of Texas would seem trite to those familiar with his career, but it is but to say in the history that will descend to future generations that he has made a business record that any man might be proud to possess. Beginning at the bottom round of the ladder he has steadily climbed upward and has gained the confidence and respect of his business associates by reason of his promptness in the discharge of every obligation and his fidelity to every business trust. He stands today not only as one of the most successful, but also as one of the most respected representatives of the stock interests of this great state.
Source: B. B. Paddock, History and Biographical Record of North and West Texas (Chicago: Lewis Publishing Co., 1906), Vol. I, pp. 5118-520.