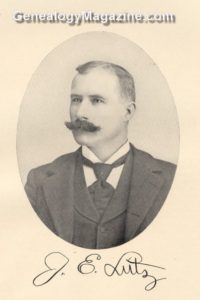 JOHN EDWARD LUTZ is a prominent real estate operator of Vernon, Wilbarger county, has been identified with the industrial and agricultural development of this section of Northwest Texas since the pioneer times and before the advent of the railroad, and as a public-spirited citizen and whole-souled, genial gentleman has won the esteem of all residents of his community.
Mr. Lutz is a northerner by birth and training, but his personal character and qualities of leadership are such that he has made himself welcome along the men of the sunny south and is one of the most popular citizens of his town. He was born in Greene county, Ohio, at Xenia, September 17, 1859. His father, John E. Lutz, was born at Harrisburg, Pennsylvania, in 1828, moved from there to Virginia, thence to Maryland, where he was married to Miss Savilla Woolford, who was born in Maryland in 1834; and in 1852 he located at Xenia, Ohio, where he and his wife still make their home, both being now past the Psalmist's three score and ten years. While in young manhood John E. Lutz became a machinist and wagon-maker, and in Xenia he started a small shop which finally developed into a wagon and carriage manufactory of considerable importance. In later years the centralization of such industries by large corporations worked detrimentally to the manufacturing department of the Lutz concern, and the establishment is now devoted largely to custom work on wagons, and carriages, being in charge of Henry Lutz, another son of the founder of the business.
Mr. Lutz was educated in the public schools of Xenia. After a thorough apprenticeship in his father's business he became expert as a machinist and in wagon and carriage work, but did not continue in this line of business as a life work. He left Ohio and came out to Texas in 1885, and in that year became connected with the land department of the Texas and Pacific Railroad, under General Immigration Agent Sabin, of that company. That business took him into western Texas, which was then but sparsely settled. The outlook was promising enough so that he left the employment of the railroad company in 1885 with the object of locating permanently in some advantageous portion of Northwest Texas, a new country which was just then being opened up to agricultural settlement by the building of the Fort Worth and Denver City Railroad. When Mr. Lutz started for his destination the railroad has been completed only from Fort Worth to Harrold, in Wilbarger county, so that from the western terminal he had to take the stage to Vernon, where he located in 1885 and where he had made his home ever since. Vernon was in that year a typical cowboy town in this part of the state. The country to the west and north was infested by desperados and renegades who frequently interfered seriously with the work of the new and permanent settlers just then beginning to develop the agricultural resources thereabout.
Mr. Lutz established himself in the land business at Vernon, and has been identified with that department of enterprise ever since with the exception of a few months that he spent as a mechanical expert on construction work for the M. K. & T. and the Santa Fe railroads when those lines were being built into Texas during the eighties. In addition to his private land dealings he is agent for and handles a large lot of the railroad lands in northwestern Texas belonging to the Houston and Texas Central Railroad. The real estate business affords not only a large field for individual business enterprise but also great opportunities and expanding conspicuous in this phase of his work, and has spent freely to his advantages of Vernon and Wilbarger county, and has thus been a potent factor in bringing the population and prosperity of the country to a point where it will compare most favorably with any communities in Northwest Texas, having started in when no farming whatever was done in this section of the state. Mr. Lutz has also dealt extensively in Texas lands generally, and during his busy career in this city he has promoted many large and important deals.
Mr. Lutz is a strong Republican in his political convictions, but his honesty felt and honestly expressed sentiments, while forbidding him a share in the life and affairs of the dominant party of the state, have none the less gained him the respect and esteem of all classes of citizens. As evidence of this and as a tribute to his worth his townsmen elected him to the office of alderman, and he has continued in this position for several years, always being elected by a very large majority. As a Republican he has done much to preserve and increase the influence of the party organization in this state. He was a delegate to the national convention in 1896, when McKinley was nominated, and was also chosen a delegate in the party's national convention in Chicago in June, 1904. He is senatorial chairman of the Republican state committee for the twenty-ninth senatorial district, and as such is a member of the state committee.
In addition to land and real estate Mr. Lutz is in the insurance business. He has the abstract books for Wilbarger county. The country in this vicinity is this vicinity is thoroughly familiar to him, as he has been over it in every direction. He is a member of the executive committee of the Texas Real Estate and Industrial Association, with which he has been connected ever since its organization several years ago. At his own expense he prepared an attractive exhibit of the resources and productions of Wilbarger county for the St. Louis World's Fair, where he took the silver medals on wheat and on cantaloupes. At the Dallas Fair, 1905, he took first premium on the best county exhibit, and three first premiums on wheat, hard, soft, and winter wheat, and second on oats.
Mr. Lutz is a Mason with the Knight Templar degrees and is connected with the local community with the local commandery.
He was married at Vernon, December 25, 1897, to Miss Maud Thurman, and they have three children: John, Robert and Mary.
Source: B. B. Paddock, History and Biographical Record of North and West Texas (Chicago: Lewis Publishing Co., 1906), Vol. II, pp. 676-676.