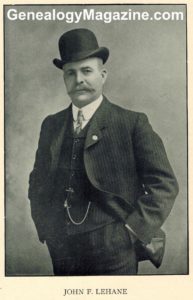 JOHN F. LEHANE, general freight and passenger agent for the Cotton Belt Railway, with headquarters at Fort Worth, was born in county Kildare, Ireland, August 15, 1858, his parents being Jeremiah and Margaret (Casey) Lehane. The father was born and died in Ireland, and the mother is still living there, at the old home in Mallow, county Cork.
John F. Lehane was accorded good educational advantages, completing his studies at Victoria College, at St. Helier, on the island of Jersey. When twenty-one years of age, attracted by the broader business possibilities and opportunities of the new world, he crossed the Atlantic to the United States and located at Fort Worth, Texas, where he lived with his cousin, Martin Casey, who for many years has been a prominent business man of this city. Mr. Lehane became connected with the railroad business in a humble capacity as an employe[e] in the local freight office of the Santa Fe system. His close application and adaptability, however, was soon recognized and he was rapidly promoted, becoming chief clerk in the joint office of three of the railways entering Fort Worth. Subsequently he was appointed auditor of the Fort Worth & New Orleans Railway, which had been built by Fort Worth enterprise and owned and controlled forty-two miles of road extending from Fort Worth to Waxahachie. This line was subsequently purchased by the Huntington interests and is now a part of the Houston & Texas Central Railway systems. At a later date Mr. Lehane became connected with Messrs. Jones & Carey as their chief bookkeeper and paymaster in the construction of the Fort Worth & Denver Railway from Fort Worth through northwestern Texas. When this line was completed the construction company appointed him as terminal agent to open up and establish the stations on the line north of Quanah up to and including Folsom, New Mexico, where connection was made with the northern part of the road which had been built southward from Denver. After this line was put in operation and the stations established Mr. Lehane was assigned to a position in the office of Auditor Ross of the railway company at Fort Worth and he occupied every position in that office including traveling auditor and chief clerk.
In the year 1892, however, he resigned and went abroad to Ireland to visit his parents. On returning to Texas he left Fort Worth temporarily and located at Mrs. Lehane's home, Houston, where in one of the railway offices of that city he worked himself up from night bill clerk to the cashier's office in about sixty days. In a few months the Missouri, Kansas & Texas Railway was completed to Houston and Mr. Lehane was offered and accepted the position of chief clerk with that line. He was then offered the position of freight and ticket agent on the Cotton Belt Railway, at Corsicana, and being anxious to return to northern Texas he accepted that place and has since been with the Cotton Belt Company. After about two and a half years he was transferred to Fort Worth as commercial agent and in November, 1900, he was made general passenger agent of the St. Louis Southwestern Railway of Texas (Cotton Belt). In April, 1901, he was appointed general freight agent of this road, and on January 7, 1903, he was made general freight and passenger agent of the Texas system of the Cotton Belt, which position he now holds. His official headquarters are at Tyler but he continues to reside at Fort Worth. The promotions and advancements that have come to Mr. Lehane have been richly deserved as he has given his best efforts for the development of the railway interests and is a thorough railroad man of great energy, ability and executive force. He is very popular with the officials of the road and the employes with whom he has been brought in contact and in his home he has many valuable gifts that have been presented to him by employes and others who have rejoiced in his success.
Mr. Lehane was married in Houston, Texas, to Miss Katie Mullane, a well known and popular young lady of that city. They have had six children but have lost three, those still living being John F., Katharine and Josephine. The parents are communicants of the Catholic church and Mr. Lehane has fraternal relations with the Knights of Columbus, Elks, the Woodmen of the World, the Eagles and the Red Men. In March, 1905, he was appointed commissioner of railways in the United States in the Elks army.
Mr. Lehane has always been interested to a greater or less extent in politics and in his early days in Fort Worth he served for some time as secretary of the Democratic executive committee. On again returning to make his home here he again became actively interested in civic affairs and early in 1900 was solicited by a committee of business men to become a candidate for alderman from the fourth ward. Accepting the nomination he made a strong canvass and was elected, the business men referred to bearing the expense of the campaign, for it was their object to secure good men for office who would look after the city's affairs and conduct municipal interests along practical business lines. After his election to the council he was made chairman of the waterworks committee and of the purchasing committee and he also became a member of the finance and several other important committees. He took an active part in the discussion and preliminaries leading up to the establishment of the present system of waterworks and in fact has constantly interested himself in that greatest of all modern municipal problems—the water supply. He has likewise devoted a great deal of his time and attention to the successful operation and working of the municipal electric light plant, but perhaps his most beneficial labor for the city has been his management of the purchasing of supplies for all departments. His business training in the railroad service, conducted as it is along systematic and businesslike principles with due attention to economy, makes him eminently equal for this branch of the city's service. It has been his constant policy to place all of the city's purchasing on a competitive basis and get the fullest value for every expenditure. Since his election to the council he has been president of that body and mayor pro tem, and he seeks not only to look after the interests of his own ward but of the city at large and is a very valued member of the council, his services being greatly appreciated by his fellow townsmen.
Source: B. B. Paddock, History and Biographical Record of North and West Texas (Chicago: Lewis Publishing Co., 1906), Vol. II, pp. 228-229.