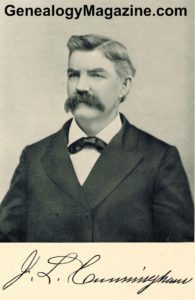 JOHN L. CUNNINGHAM. Prominent among the energetic, far-seeing and successful business men of Western Texas, is John L. Cunningham. His life history most happily illustrates what may be done by faithful and continued effort in carrying out an honest purpose. Integrity, activity, and energy have been the crowning points of his success and his connection with various business enterprises has been of decided advantage to this part of the state, promoting its material welfare in no uncertain manner. He is now successfully entered in at Matamoras, Mexico, in the Second gaged in the banking business at Palo Pinto and his prominence as a business man and citizen is well deserved. He was born in Cherokee county, Alabama, September 27, 1858, his parents being Louis and Charlotte (Campbell) Cunningham. His father was a native of Rowan county, North Carolina, and was reared in Alabama. He made farming his occupation and in the early settlement of Alabama he served as sheriff of Cherokee county for nine years. He took part in the war against the Creek Indians in that state and in 1868 he removed to Cherokee county, Texas, where his death occurred. His wife, who was born in Lafayette county, Alabama, now lives in her pleasant home in Jacksonville, Cherokee county, Texas.
John L. Cunningham came to this state with his parents in 1868, when a lad of ten years and lived in Cherokee county until 1873. He had acquired a good education under the instruction of Professor Patton in Jacksonville and in the academy at Lebanon, Tennessee, making a specialty of the study of mathematics, intending to make surveying his life work. He did not advance as far in this science, however, as his brother Daniel L. Cunningham, who became a civil engineer. In 1873 John Cunningham and his brother Daniel came to Western Texas in connection with the right-of-way and engineering departments of the Texas and Pacific Railway Company, which was then making plans for the construction of its road through Texas west to El Paso. Daniel Cunningham was an engineer under chief engineer O'Neal of the Texas and Pacific Railroad Company and the brothers went with a surveying party as far west as the plains, stopping for some time in Palo Pinto county. Subsequently John Cunningham returned to Jacksonville but his brother remained in Palo Pinto county and in fact made his home practically in the county after 1873, the only exception being the time when he returned to Cherokee county and located the line of the railroad from Rusk to Jacksonville. He then returned to Palo Pinto county and in 1875 was appointed surveyor of the Palo Pinto land district, comprising a large section of the state, including Palo Pinto and Young counties and extending west for a tier of two counties all the way to the New Mexico line. In 1876 he was elected to the same position to which he had been appointed in 1875.
John L. Cunningham returned to Palo Pinto in 1880 and with his brother established the firm of Cunningham Brothers, real estate and land agents. They prospered in this undertaking, obtaining the confidence of the people of the county to such an extent that they were called upon to do a banking business, receiving the deposits of the people and, handling their financial affairs. Although they had not organized at that time a regular bank, this business became so important and extensive that in 1889 they established a banking business under the firm style of Cunningham Brothers, bankers and real estate dealers. Daniel Cunningham died November 7, 1894, but there has been no change made in the firm name, which since 1897 has been the banking house of Cunningham Brothers; the real estate department was discontinued in that year. This is the oldest bank in the county and is a highly prosperous one. Mr. Cunningham is very popular among the cattlemen, ranchers and farmers throughout the county. He makes himself one with them, having the old-fashioned liberality and hospitality, and when they enter his bank they always feel at home. The business interests of the brothers were not divided at the time of Daniel Cunningham's death and Mr. Cunningham of this review is in connection with the estate of seven thousand acres of good land adjoining Palo Pinto on the east and north. He also owns individually a farm of eight hundred acres on the Brazos river, also an exceptionally fine farm of twelve hundred acres adjoining the town of Gordon in the southern part of the county. As the years have passed he has become a wealthy man and he now owns an interest in the cotton gin at Palo Pinto and in other enterprises here.
Mr. Cunningham was married in Stephens county, Texas, to Miss Henrietta Evans, a native of Canada, and they have three children: Grace Helen; Littleton E.; and David Wynn. Mr. Cunningham is prominent in Masonry, belonging to the lodge and chapter. He is also a Woodman and he belongs to the Presbyterian church, in which he is serving as elder. The cause of education also finds him a warm friend and he was at one time school trustee. Mr. Cunningham is a man of energy and activity. He has been tried by his fellow citizens and they know his worth. He has become a man of broad, general information, and of liberal and progressive views, and in his life he has made an untarnished record and unspotted reputation as a business man.
Source: B. B. Paddock, History and Biographical Record of North and West Texas (Chicago: Lewis Publishing Co., 1906), Vol. I, pp. 346-348.