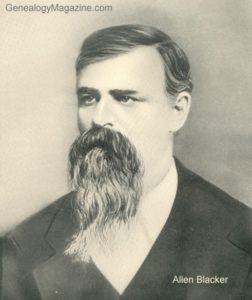 Studied from the standpoint of his connection with the city of El Paso, the career of Judge Blacker, who died in that city December 26, 1905, is a civic and private record that indicates, on the one hand, the marvelous growth of the City of the Ford, and, on the other, his public- spirited and intimate identification with its history from pioneer times to the present.
Born in Ross county, Ohio, February 5, 1832, "Pioneer" Allen Blacker, as he was affectionately called in his home city, was nearly seventy-four years old at the time of the death summons. He was one of the children of Dennis and Rachel (Hotsenviller) Blacker. The father was born in Virginia and was among others of southern ancestry to cross the Alleghanies in the early days of the development of the Western Reserve and become a pioneer to this historic Chillicothe neighborhood, there meeting the Yankee settlers from the New England states who also emigrated to that region about the same time. Dennis Blacker was a saddler by trade, and was a man of thrifty and sturdy habits, who in his business life placed his dependence on close application and untiring energy, and thereby won the success that enabled him to give his children a fair start in life according to the standards of those days.
Reared in his native town of Frankfort, receiving his education in the public schools, on arriving at young manhood, Allen Blacker entered the law office of Allen G. Thurman at Chillicothe, Ohio, and studied law under that "grand old Roman." After his admission to the bar he became a partner of his former preceptor. Later he became connected with the firm of McClintock and Smith, prominent commercial lawyers, with whom he remained for some years, when he entered into partnership with Joe Miller, who was a member of Congress from the Chillicothe district. In other relations Judge Blacker was prominently and closely associated with the leading men of Ohio at that day.
On receiving appointment as clerk of the territorial court of the territory of Nebraska, he removed in 1859 to Nebraska City, where he resided till the breaking out of the war between the states. Sterling P. Morton, afterward a member of Cleveland's cabinet, organized Company D, First Nebraska Cavalry, and Judge Blacker was elected its captain. His regiment was sent to join the Army of the Tennessee, and he was in various battles of that army, among which were those of Fort Henry, Fort Donelson, Pittsburg Landing (or Shiloh), the siege of Vicksburg, Arkansas Bluffs, Lexington (Mo.) and many others. Although he participated in twenty-seven battles, he was never wounded, but in one of those his life was saved by a picture of his wife which he carried in the breast pocket of his coat, it protecting him from a piece of a shell. While with the army he acted as war correspondent of the New York Herald. He was promoted to major and served on the staff of General Rosencrans. He was afterwards ordered to St. Louis to serve as judge advocate of the court martial organized there during the period of martial law in that city. Afterwards he was ordered to Fort Leavenworth, Kansas, as judge advocate at that post, where he remained until the close of the war in 1865, when he resigned his commission in the army and again entered into the practice of his profession at Leavenworth.
In 1869 Pioneer Blacker, in company with General Mitchell, who afterwards became governor of New Mexico, came across the plains on a business venture in Chihuahua, making his headquarters, however, at old Fort Bliss, El Paso then being but a straggling village. He left his family behind until he should arrange his business affairs on a satisfactory basis, when, having become thoroughly impressed with the future greatness of El Paso, he sent for them and they joined him in the year 1873. From that time till his death El Paso was his home. He filled many offices of honor and trust. In 1875 he was elected judge of the El Paso district, the largest in the world as far as territorial extent was concerned. He was a member of the legislature, and for several terms a member of the El Paso city council. He was recognized for a generation as one of the leading men of this section and was always prominent in public affairs until his health began to break in 1900, when he removed with his family to Cloudcroft, New Mexico, in the hope of winning back his failing powers, but always looking upon El Paso as the home to which he would eventually return. The change proved beneficial for a few years, but his health again failing and there being no physician in Cloudcroft, he returned with his family to El Paso in March, 1904.
While living at Cloudcroft he filled the various offices of justice of the peace, postmaster and county commissioner for Otero county, his neighbors and fellow citizens of New Mexico recognizing in him the same sterling qualities which had distinguished him throughout his long and eventful life in the east and in this state. Under the first administration of Grover Cleveland he was appointed local statistician of the agricultural department in El Paso. He was the author of a treatise on military law which was long recognized as authority on the subject and was adopted as such by the United States government. He was a charter member of the association and a member of the Grand Army of the Republic.
In Ohio, on January 24, 1861, Judge Blacker was married to Miss Martha Porter Robinson, of Greenfield, Highland county, that state, by whom he had five children, all of whom and his wife survive. The children are: J. R. Blacker, of El Paso; Lida, Mrs. Reuben Hemigrey, of Louisville, Kentucky; Belle, Mrs. G. S. Thompson [Thomson], of Aguascalientes, Mexico; Mary, Mrs. George Haile, of El Paso, and Allene, of El Paso.
Pioneer Blacker was in the best sense a pioneer of El Paso. Being there before the railroads came and before the boom of the eighties, he was not content to sit by and watch idly the progress of events which made a great city; he was foremost among the determined citizens who made those events possible and whose endeavors bear fruition in the modern El Paso. Always representing the better element of society, his influence was uniformly felt on the side of law and order when even normally good men around him were prone in turbulent times to be led into the excesses characteristic of the frontier and to disregard the restraints of law and the sacredness of human life.
Pioneer Blacker had for years calmly regarded his approaching dissolution and prepared himself for it. Only a few months before his death he had closed a public address with this quotation:
"So lie that when thy summons comes to join the innumerable caravan which moves to that mysterious realm where each shall take his chamber in the silent halls of death, thou go not like the quarry slave at night, scourged to his dungeon, but, sustained and soothed by an unfaltering trust, approach thy grave like one that wraps the drapery of his couch about lies down to pleasant dreams."
And thus he died.
Source: B. B. Paddock, History and Biographical Record of North and West Texas, Vol. I (Chicago: Lewis Publishing Co., 1906), pp. 501-503.