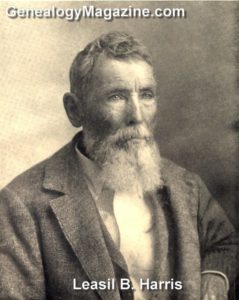 LEASIL B. HARRIS. No citizen in the community enjoys the confidence and high esteem of his associates and neighbors in a greater degree than does this honored old pioneer, Leasil B. Harris, who came to San Angelo in an early day, and from that time to the present has taken an active share in the development of the resources of this locality. Since he became a permanent resident of this city he has materially aided in all its enterprises, and has ever used his influence in behalf of everything making for good citizenship. He was born in Macon county, Georgia, February 18, 1827, a son of Walter and Barbara (Thomas) Harris, the former of whom spent his entire life in his native state of Georgia, where the mother was also born, but her death occurred in Texas.
When but three years of age Leasil B. Harris was brought by his mother and her brother to Alabama, from where they later removed to Tipton county, Tennessee, and in 1835 came to Texas, but which was then a part of Mexico, their first permanent location having been made in what is know Gonzales county, near the town of that name. They came to this state as a member of a Tennessee colony. From that place they were compelled on account of the war between Texas and Mexico to refugee from that place in what was known as the "Runaway Scrape," Mrs. Harris and her four children then lived for a time in Grimes county, on Grimes Prairie, but later returned to Gonzales county. Under the Republic of Texas Leasil Harris volunteered as a soldier in the frontier service, although he had at that time not attained his eighteenth year, but when Texas was annexed to the Union he was mustered out of the frontier service only to enter the United States service in the Mexican war, serving in Taylor's army and going out as far as Monterey. At the close of that struggle he was ordered back to the frontier service in Texas, in Colonel Ben McCulloch's Brigade, in which he served for about three years. About this time Mr. Harris secured a start in the cattle business, which was just beginning to be an industry of importance in Texas, and moving his family to San Antonio, operated for many years as a cattleman in Atascoa and neighboring counties, with headquarters at San Antonio. At one time he was the owner of three large ranches in that part of the state. In May, 1877, he came with a bunch of cattle to Tom Green county, and until within a few years ago was actively engaged in that industry, but is now retired, although he still owns a valuable farm on the Colorado river, near Robert Lee in Coke county, twenty-eight miles north of San Angelo. Since 1880 the family have resided in San Angelo. Mr. Harris was one of the organizers and the first president of the Concho National Bank, the first institution of that kind in San Angelo, established in 1882, and in 1902 its name was changed to the First National. He is now living retired from the active duties and cares of life, enjoying the fruits of his years of toil in the past. His name is inseparably connected with the history of this locality. He hauled lumber with an ox team from San Antonio for one of the first permanent buildings in the town of San Angelo, and at one time was numbered among the most extensive stockmen of Texas, having on one occasion in San Angelo sold two hundred thousand dollars' worth of cattle to one party. He suffered greatly from the Indian depredations and lost a great deal of stock in the last Indian raid in 1882.
Mr. Harris married Mary Isabelle McKenzie, and their two sons, Frank and Ralph, are both prominent cattlemen in San Angelo, with extensive interests in Tom Green county. Besides the two sons, there are three daughters, Mrs. Mary Childers, Mrs. Nancie Cortledge and Clara.
Source: B. B. Paddock, History and Biographical Record of North and West Texas (Chicago: Lewis Publishing Co., 1906), Vol. I, pp. 357-358.