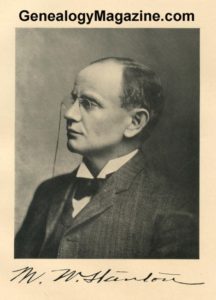 MARVIN W. STANTON, practicing at the bar of El Paso, with a large and distinctively representative clientage that has placed his name prominently upon the judicial records of that county, was born in Whitfield county, Georgia, February 13, 1862, his parents being John W. and Lucinda (Hale) Stanton. He comes to the same ancestry as Hon. E. M. Stanton, secretary of war under President Lincoln, the latter being a cousin of John W. Stanton. The family originated in the south of Ireland and emigrated to America about the time of the Robert Emmett troubles. One of the brothers finally located in Ohio and founded the branch of the family to which E. M. Stanton belonged, while the other two brothers settled in Virginia and South Carolina respectively.
John W. Stanton was born in Tennessee, but his parents were from South Carolina. Removing at an early day to Georgia he spent the greater part of his life in that state, living first at Whitfield county and afterward in Gordon county. He was a soldier of the Confederate Army, which he joined at the beginning of the Civil war and eventually he became the captain of a company which was first under command of General Stonewall Jackson and later under General Lawton. Prominent and influential in political life as well he left the impress of his individuality upon the legislative history of the state and for ten years was a member of the general assembly of Georgia during the strenuous re-construction period, serving in both and upper and lower houses and taking an active part in framing the important legislation of that epoch. The name of Stanton street in El Paso was given in honor of Lieutenant Stanton, a West Point graduate and a cousin of John W. Stanton, who served in the Indian warfare in the southwest in the early '50s and was killed by the red men about 1857. Fort Stanton, New Mexico, was named in his honor and the street of that name in El Paso is so designated from the fort.
John W. Stanton was united in marriage to Lucinda Hale, a native of Virginia, and was a member of the Hale family of the Old Dominion, which, with other relatives comprised an entire company of Confederate soldiers in the Civil war known as the dare devils, having distinguished themselves for remarkable courage and bravery at the first battle of Manassas. John W. and Lucinda Hale Stanton had six sons, and three daughters, the eldest being William L., of Los Angeles, California, who for a time was lieutenant under General Joseph Wheeler; Peyton L., living in Jerusalem, an author and a man of letters; Edwin M., a prominent minister of the Methodist Episcopal church, South, Atlanta, Georgia; Judge C. Q., one of the early pioneer pioneers of El Paso, havin[g] come here in 1880 before the advent of railroads and was a prominent practitioner for several years, but left the city on the 1st of January, 1889, and is now living in Los Angeles, California; N. H., a government official in the internal revenue department; Celia married Captain Sylvester Watts, who served under General Joseph Wheeler for a time; Sarah J. married S. S. White, of Walnut Springs, Basque [Bosque] county; Texas; and Miss Mary Stanton, instructor in the El Paso High School and founder of the El Paso Library.
Although born in Whitfield county, Georgia, Marvin W. Stanton was reared in Gordon county and largely acquired his education there. He is a graduate of the University of Georgia, in which institution he prepared especially for the practice of surveying and civil engineering. He arrived in El Paso on the 12th of August, 1883, two years after the building of the railroad, and was engaged in surveying in this city and the adjacent territory. In 1884 he went to St. Louis, Missouri, to complete his legal studies in the law department of the Washington University, of which William G. Hammond, a distinguished legist, was then a dean. In due course of time Mr. Stanton was graduated and in the meantime he received practical experience in law in the office of Medill, Hitchcock & Finklenberg, one of the prominent firms of that city, and was admitted to the bar at St. Louis in 1885. He first practiced there, but on the 8th of June, 1886, returned to El Paso, where he has since engaged in law practice. He is thoroughly familiar with all departments of jurisprudence and has a large, general practice, extending to all the courts of Texas and into New Mexico and Arizona as well. He prepares his cases with great precision and thoroughness, and in argument possesses a strength of logical deduction and clear, cogent reasoning that never fails to impress court or jury and seldom fails to win the verdict desired.
Source: B. B. Paddock, History and Biographical Record of North and West Texas (Chicago: Lewis Publishing Co., 1906), Vol. I, pp. 658-659.