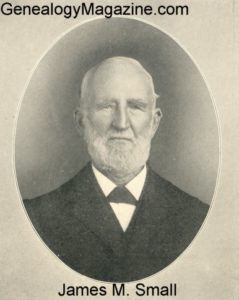 A life of activity, such as has been experienced by the subject of this review, it is rarely our privilege to record. Rich in deeds which win humanity for the Kingdom, and pregnant with events whose rehearsal would fine interest at every fireside, its evening and is passing in a clear sky and a glowing sunset and night will mark the splendorous closing of a life whose longevity is rarely equaled and seldom surpassed. Eighty-seven years marks the last milestone of his onward journey, and fifty-three years marks the period of his life's labor in the ministry. In the quiet retreat of his comfortable and modest home his retirement is surrounded by his books, by the blessings of prosperity and health and the influences of a united household.
James M. Small was born at Harper's Ferry, Jefferson county, Virginia, May 25, 1818. His father, William Small, was a merchant tailor, who also had some interests in agriculture, was born a few years subsequent to the close of the American Revolution and was a native of the state of Virginia. During the war of 1812 he was captain of a company stationed at Norfolk, Virginia, and helped to prevent the capture of that place by the British on one occasion. His father was a wagon-master in the Confederate army during the Revolution, while a brother of his father, a Tory, was a colonel in the English army. The family are of Scotch-Irish origin and are, according to residence and service indications, entitled to all the honors due original and patriotic Americans.
William Small was prominent in Free Masonry. His home in Virginia was along the Potomac river and in the forepart of the nineteenth century the Masons of the state held convocations at points along the river annually, at which much important degree and other work was done. He was an attendant upon these meetings, was prominent in their councils and filled the post of grand marshal, on which occasions he wore a sword—a Damascus blade—presented to the lodge by a relative of General Washington, along with a Masonic apron of sheepskin, which paraphernalia was presented to Washington by the Czar of Russia just after American independence had been won. Both being Masons, the Czar desired to express his high regard for America's greatest citizen and soldier and accomplished his purpose in the six-word inscription on the blade, "From the oldest to the greatest."
About 1831, William Small left his native state and brought his family westward, and for some years, lived about over Southwestern Ohio, but before the Civil War he located in Lincoln, Illinois, where he died some time in the latter sixties. His wife, who was Elizabeth Koontz, passed away in Virginia, being the mother of Mary A., wife of Dr. John Rush, died in Royalton, Ohio; Hettie died in Lincoln, Illinois, as Mrs. Daniel Jackson; Elizabeth, who died at Lincoln, Ill. was Mrs. Dr. A. Cook; and James M. of this record.
The coming to manhood of our subject occurred in Virginia and Ohio and his education was acquired in those states and in Tennessee. Viney Grove Academy, near Fayetteville, Tennessee, rounded out his life as a college student, to which place he went intending to prepare for the law. While in school a spiritual conversion visited him and he felt a call to the gospel instead, and all idea of the law was abandoned. He engaged in teaching school as a livelihood in Tennessee and did his first religious work there.
In the spring of 1849 a select company was formed from four counties, numbering thirty-six young men, to emigrate from the east to the west. The gold fields of California was their destination and their train of wagons was supplied with about every appliance needed in the trades or professions in that new Eldorado of the west. The company elected Colonel Ferguson captain and took the southern route, going from Memphis to Fort Smith by boat and thence struck boldly into the wilderness to Santa Fe, New Mexico. Striking the Rio Grande river they followed it down to Cook's trail and, at Mr. Small's suggestion, rafted down the Gila river and their heaviest supplies to its crossing and on their destination. The trip down the Gila was made for the purpose of lightening the loads on the teams and the rafts were laden with medicine—for which the government had offered them $1,000, at Santa Fe—with blacksmith's tools and other bulky and heavy articles, being a complete outfit for the wilderness. While Mr. Small proposed to undertake this journey alone, seven others finally joined him and so long as the river remained narrow and swift they made good time and without incident. When the mountainous country had been passed and the valley land appeared the river grew shallow and sandbars impeded the progress of the navigators so much that they decided to make a lighter raft, load it lightly, and one desperate fellow took charge of it and started on, declaring he would neither ask nor give help. Several of the others decided to meet the wagons below on foot while Mr. Small threw away some of his load and continued his journey down stream. The man on the light raft grounded so often on sandbars that he abandoned his raft and its load and, footsore and weary, he reached the wagon crossing on the river on time, while our subject, finding a note tied to an overhanging tree, from the captain, telling him by a certain day, obeyed, and thus ended the journey down the Gila and thus, much reduced, the company continued and finally completed its tramp to the Pacific.
His first efforts in California were directed in mining. A company was formed, of which Mr. Small was treasurer, for the purpose of turning the Macalomy river, whose bed proved to be rich in gold, but toward fall of 1850 Mr. Small abandoned his mining project, located in Napa City, near San Francisco, and began his career, regularly, in the ministry. He was the first preacher to visit that place and he talked to its inhabitants in the dining-room of a boarding house until better accommodations could be provided. He organized the first Sabbath school, furnished testaments and made seats for the room, filled all the offices form janitor to minister, himself. He started the organization of the first Masonic lodge and rented a two-story box house, the first floor of which was used for a church and school-room and the upper floor for a lodge room. He taught the public school of the place for two years and while carrying on his church and pastoral work, at the same time found it necessary to make long journeys at night that it might not interfere with his educational work. The church which he organized became the first Cumberland Presbyterian church of Napa City and with it and with the surrounding country in Sonoma county he was identified, as a minister, until 1872, when he removed to Texas.
In the autumn of 1873 Rev. Small became the pastor of the Cumberland Presbyterian church in Fort Worth, but resigned the following year and for the succeeding eight years gave his time to various places in Central Texas where Cumberland Presbyterian congregations were without pastors. In 1882, he came to Montague county and was, for four years, situated on his farm some four and a half miles form Bowie, engaging the while in his favorite calling wherever this opportunity presented. In 1898, his voice failing him, he preached his last sermon and his quiet residence in the city of Bowie has since followed.
In 1856 Rev. Small was first married in Sonoma county, California, his wife being Miss Martha Thompson, a daughter of John B. Thompson from Missouri. In 1859 his wife died and in January, 1862, he married Frances J., a daughter of Allen Hightower, from Jackson county, Missouri, where Mrs. Small was born May 26, 1834. William T. Small, a son by his first wife, is Rev. Small's only child. He was born in Sonoma county, California, February 28, 1859, and was reared there and in Texas. His education was obtained in Mansfield and Bryan, Texas, in the Agricultural and Mechanical College at Bryan, and he finished it in the State University of Missouri.
The first year of his business career William T. Small devoted to the drug business, but on abandoning this he engaged in teaching school and followed it several years. He finally settled down to the farm near Queen's Peak, in Montague county, where he has achieved his ambition as a successful stock-farmer. He owns several farms, aggregating some nine hundred and fifty acres, and is numbered among the substantial men of the county. He was married in Boone county, Missouri, in 1883, to Miss Marietta, a daughter of Judge Angell, and a son, James M., was born of this union.
Rev. Small became a Mason in 1845 and has taken all the ancient degrees, blue lodges, chapter and council. During active life he manifested much enthusiasm in the ancient craft and the spirit of its founder has animated him in the fulfillment of the noble purpose of the order.
Source: B. B. Paddock, History and Biographical Record of North and West Texas (Chicago: Lewis Publishing Co., 1906), Vol. II, pp. 81-82.