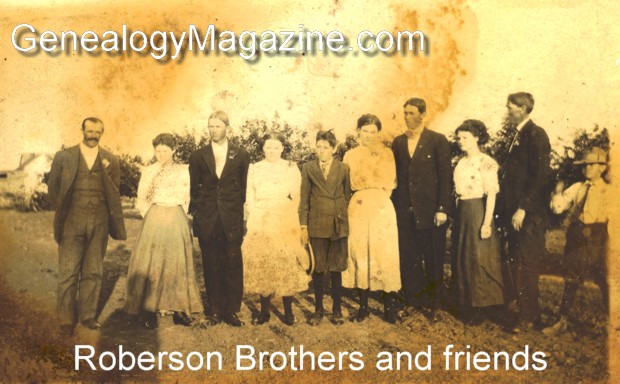 Historical Images Collection
Ref. No.
P001-82
Subject
Postcard of Roberson Brothers and friends
Location
unknown
Date
1911
Caption
[Reverse] Postcard dated 19 June 1911 and addressed to Mrs. J. E. Burnett, Stephenville, Texas, states: "Dear Aunt, I will send you a picture of the Roberson Brothers and some of there [sic] friends. It is getting a little dry here but crops are looking very well. Answer soon. Henry R."
Notes
Notes: Picture is water damaged.

The 1910 U.S. census, Erath County, Texas, Justice Precinct 4, p. 203, household 34, family 34, National Archives microfilm T624-1550, shows the household of farmer John E. Burnett, age 29, born in Texas; wife Julia C., age 27, born in Arkansas; son Clinton E. (age eight), daughters Beryl (age six) and Winnie (age three), all of whom were born in Texas. The census indicates that the Burnetts had been married nine years at the time of the enumeration. According to Marriage Book I, p. 41, Erath County Courthouse, Stephenville, John E. Burnett and Miss Julia Roberson were married 1 November 1900.