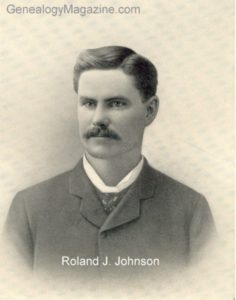 ROLAND JEFFERSON JOHNSON. The subject of this sketch is the youngest son and heir of Roland J. Johnson, one of the three earliest settlers of Young county, who came hither in September, 1857, rather a wandering stockman in search of an ideal location for his future home. In passing across the wild country just northwest of Fort Belknap the latter discovered the object of his search and selected the waters of Post Oak creek or "Six Mile" as it is geographically termed, as the place where his lot should be cast. Here he prospered on range and farm, became widely and favorably known as one of the "landmarks" of the county and lived quietly and unobtrusively, in the enjoyment of the wild sports, the company of warm friends and the possession of a modest, self-earned fortune, dying amid the scenes of his vigorous and active life in 1890.
Roland S. Johnson, Sr., was born in Spartanburg District, South Carolina, September 27, 1812, and was brought to manhood in the district of Greenville, that state. William Johnson was his father and was born in 1793, dying in the old Palmetto state in 1874. Of his seven children only Roland J. and John A. left the old state and joined the innumerable caravan on the frontier of the great and untamed west. John A. passed his life and died in Atascosa county, Texas, while Roland J. began life in East Texas, a young man, and came westward by degrees and stages, stopping some years in Leon county, then drifting on northwest to Throckmorton county—minding his herd as he went—terminating his nomadic career on the "banks of the Brazos" at forty- five years of age.
His estate, which descended to his surviving children, son and four daughters, was made up of three hundred and twenty acres of Peters Colony land, four hundred and ninety-one acres of the Daniel Remington Survey and one hundred eighty-seven acres of the David M. Bullock survey, totaling nine hundred and ninety-eight acres, which be bought, in 1871, at a cost of one thousand dollars. Up to this date he had contented himself with his cattle but the signs indicated to him that the land which was then of so little value would some day be sought for as a home by some immigrant and he decided to acquire his while it was cheap.
While he settled in the path, so to speak, of the Indians who frequented the Texas frontier for fifteen years subsequent to his settlement in Young county, Mr. Johnson was never personally molested by the hostilities and never suffered loss except as horses were occasionally missed. The wild game of forest and plain was everywhere. The buffalos was wont to drift into the fringed settlements of the Brazos, antelope were countless in number, deer were as common as the jack rabbit and turkeys were in flocks and droves like blackbirds today. All these conditions spiced the life of the man on the border and Mr. Johnson feasted upon its fruits and almost lived upon this manna of the American path.
In his political views he was a Democrat but seemed to be without aspiration for political honors. He consented to serve as county assessor of the county and did so when elected, and during the Civil War belonged to the state militia. On his way to Texas he stopped for a time in Louisiana and was married to Elizabeth Banks. Mrs. Johnson died December 8, 1882, the mother of: Martha, of Decker, Texas, wife of John H. Cochran; Eliza, who died unmarried in 1892; Marilda, who passed away at fourteen years at Camp Cooper, Throckmorton county; John A., who was accidentally killed at Belknap, December 26, 1866; Rosa, wife of John W. Profit, a large ranchman and leading citizen of Young county; Mary A. E., wife of Joe H. Graham, of Midland, Texas; and Roland J., Jr. of this review.
September 8, 1859, was date of the birth of Roland Jefferson Johnson, in Young county, and all the years of his life have been passed amid the rural environment already described. He obtained a knowledge of books from the country schools and from the schools of Weatherford but at fifteen years quit the life of a pupil and began in earnest that of a cowboy on his father's range. In time he was admitted to a partnership with his worthy ancestor and continued so to the latter's death, himself succeeding to the valuable estate upon which he maintains a hospitable and modern home. On the 31st day of March, 1887, he married Miss Mollie Woolfolk, a daughter of Joseph A. Woolfolk, mentioned in this work. Mrs. Johnson was born in Kentucky, November 25, 1867, and she and Mr. Johnson are the parents of two children, Maime and Roland J., Jr.
Mr. Johnson, like his father, is a Democrat and was elected county commissioner in 1898 and was re-elected in 1900. These years the board had its hands financially tied and devoted itself to the paying off of county warrants issued for two iron bridges that lie in the Brazos river and the two now spanning the river.
Source: B. B. Paddock, History and Biographical Record of North and West Texas (Chicago: Lewis Publishing Co., 1906), Vol. II, pp. 660-661.