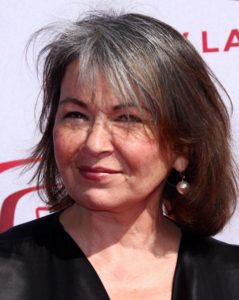 According to family members, Roseanne Barr's paternal grandfather left Russia to flee the Czar's army and came to America where he had family. 
By James Pylant
Copyright © 2006—All rights reserved
Do not post or publish without written permission
Photo: s_bukley/Shutterstock 
Utah's first trickle of Jewish settlers came in 1849—California Gold Rush remainders—who, as historian Ralph M. Tannenbaum notes, "found their California arrival too late for them to stake claims." Eight years later Jewish merchants saw the potential in the state with the arrival of U. S. Army troops at Camp Floyd. Although Jewish religious ordinances are known to have been in practice in Salt Lake City nearly a decade earlier, the first congregation was not formally established until 1873. The earliest Utah Jews were predominantly of German and Hungarian descent, but the wave of immigrants over the next several years brought Salt Lake City Jews from Eastern Europe. As a result, differences arose in the synagogue between its German-Hungarian group (which leaned towards more liberal practices) and the new Russian-Polish segment, which tended to follow Orthodox rituals. This eventually led to the establishment of an Orthodox synagogue, the Congregation Montefiore.1
Roseanne Barr's family were members of the Congregation Montefiore, and they were laid to rest in its cemetery. The star of the television series Roseanne (1988 —1997), whose credits in the entertainment industry include actress, comedienne, writer, director and producer, was born Roseanne Cherrie Barr in Salt Lake City on 3 November 1952.2
The paternal side of the family had lived in Salt Lake City eight years at the time of her birth. Her father, Jerome Hershel "Jerry" Barr, was born in St. Paul, Minnesota,3 on 23 November 1929.4 The 1930 Federal Census shows four month-old Jerome H. Barr in the household of father Samuel Barr, the twenty-five year-old manager of a furniture supply company, at a rented residence on Aurora Avenue, in St. Paul, Ramsey County, Minnesota. Samuel Barr was born in Russia, as were his parents. His wife, Francis, age twenty-one, was born in Minnesota to Russian-born parents. The couple had two other children, two year-old Larrimore B., and one year-old daughter Gerda. Also living at the residence were Joseph Katz and his wife, who are listed as father-in-law and mother-in-law to Samuel Barr. Mr. Katz, age fifty-nine, was the proprietor of a shoe shop. Mrs. Katz's age is given as forty-nine. The couple were both born in Russia and the "Language spoken in home before coming to the United States" is listed as Yiddish. Joseph Katz was thirty-five years-old at the time of his marriage, while his bride was then twenty-five. Their daughter Francis was eighteen at her marriage to Samuel Barr, who was twenty-two.5
Samuel Barr was born in Kiev, Russia, to Lazar Borisofsky and the former Bossie Saslavksy. He and Frances Bertha Katz were married in St. Paul on 26 December 1926.6 According to Roseanne's sister, Geraldine Barr, Sam Barr left Russia to flee the Czar's army and came to America where he had family. In New York, he had six sisters, but it was in St. Paul, Minnesota, where he saw opportunity. Here, his brother operated an import-export business and provided Sam with a job. His family wanted to expand their import business and they viewed Salt Lake City with potential to expand the enterprise. That vision prompted Sam Barr to relocate his wife and children out west.7 In Salt Lake City, Mr. Barr owned Barr Specialties Company, and later Home Specialties Company. Mr. Barr was a member of the Montefiore Synagogue at the time of his death in Salt Lake City in July of 1962. He was buried at Montefiore Cemetery.8 Frances Bertha Katz Barr was born on 23 September 1908 and died in May of 1986.9
Roseanne Barr's great-grandfather, Joseph Katz, was born in Russia on 4 September 1874, and he arrived in America on 15 January 1905.10 Great-grandpa Joe — as the family story goes — a shoemaker in Russia, avoided the military by stowing away on a ship to Cape Town, South Africa. Cape Town had a substantial Jewish community, and he lived there for fifteen years.11 In fact, his sister remained there.12 But Mr. Katz found his way to the United States, first at New York and then at Waterloo, Iowa. When he set out for Minnesota, however, he could not afford the railway, so he walked the distance.13 As the 1930 St. Paul census schedule indicates, Joseph and Sophia Katz were married about 1906. His obituary states the wedding took place in Minneapolis in December of 1907.14 However, a Minneapolis marriage license shows one Joe Katz and Sophia Schandra were united by Rabbi Salomon in Minneapolis on 1 May 1908.15 Mr. Katz also moved to Utah from Minnesota. He died in Salt Lake City on 22 September 1952.16
Roseanne Barr's parents were married fifty years at the time of his death on 9 April 2001.17 Her mother was the former Helen Davis,18 born in 1934.19 Roseanne's maternal grandfather, Ben Davis, was born in Austria-Hungary on 28 March 1898.20 According to Geraldine Barr, her grandfather was two years-old when he arrived in the United States, and the family settled in McKeesport, Allegheny County, Pennsylvania, before moving to Salt Lake City21 in 1919.22 The following year, he appears on the rolls of the fourteenth federal census enumeration in Salt Lake City. Morris D. Davis, age fifty-four, born in Austria, a "Retail Merchant, Grocery Store," rented a residence at 5th South Street, with wife Pearl, age fifty-two, born in Austria, and son Bennie, age twenty, a grocery store salesman. The "Mother tongue" of the three Davises is recorded as Jewish. Apparently, Morris Davis preceded his family to America, as the census listed 1903 as his immigration date, while 1904 is given for wife Pearl and son Bennie. Mr. Davis was naturalized in 1908, and his wife and son received that status the next year.23 Mrs. Davis's maiden name was Pearl Rosenblum. Their son, Ben Davis, owned and managed a grocery and later Davis Apartments. A member of Congregational Montefiore, he died in Salt Lake City on 12 December 1954 and was buried in Montefiore Cemetery.24 His wife was Mary Betnum, born 5 March 1906.25 The Davises wedded in Salt Lake City on 7 December 1930.26
Roseanne's maternal grandmother — Bobbe Mary (pronounced Bubby) — had a strong presence in her life and perhaps the inspired the character of Grandma Mary (portrayed by Shelly Winters) in the Roseanne television series. The deeply Orthodox Mary Betnum was born in a small Jewish village in Lithuania to prosperous farmers with a large family. However, life under the rule of the anti-Semitic Russian czar made life increasingly unbearable. Finally, Mary's father dispatched the sixteen year-old and her older sister to America to live with his sister in Kansas. She later followed her singing teacher to Salt Lake City.27 Geraldine Barr vividly recounts the profound anguish her grandmother experienced upon learning, in 1945, that all remaining members of her family in their hometown village had been brutally slaughtered by the Nazis. After her husband's death, Mary Betnum Davis continued to operate the Davis Apartments.28 Of her grandmother, Roseanne Barr said, "I loved my grandmother more than any other human being because she never lied, never told you what you wanted to hear, never compromised."29 She died at age seventy-six on 8 June 1982,30 a few years shy of seeing her granddaughter's meteoric rise in Hollywood.
NOTES AND REFERENCES