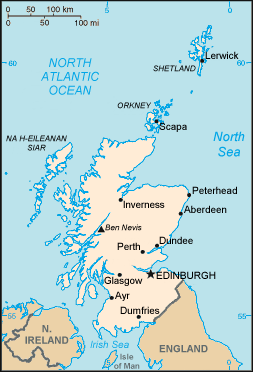 Approximately 1.5 million Scots have immigrated to America—they have been settling here since the earliest Colonial days. The number of Americans who have some Scottish heritage is enormous.
By MYRA VANDERPOOL GORMLEY, CG
Copyright © 2000
Reprinted from American Genealogy Magazine, Vol. 4, No. 1
Do not post or publish without written permission
Graphic: CIA World Factbook
The surnames of Scots can be found throughout the United States on our maps and gazetteers. There are more than 100 place names that begin with "Mac" or "Mc" and you'll find eight Aberdeens, eight Edinburghs and seven Glasgows and eight places that bear the name Scotland.
Several Scottish colonies—many of which were short-lived—were established in the New World in the 17th Century. Among these were Nova Scotia (1629), East Jersey (1683), and South Carolina (1684). The latter two served partly as refugees for religious dissidents. East Jersey for Quakers and South Carolina for Presbyterians who at the time were liable to prosecution because the Church of Scotland had an Episcopal constitution.
A number of the Scots who came to America in the 17th Century did not come by choice. Some were deported as criminals, others as members of the losing side in civil and ecclesiastical disputes.
Scottish armies were defeated by the forces of Oliver Cromwell three times between 1648 and 1651, and on each occasion several hundred prisoners were sent to America. Nearly 200 persons, some of them guilty of participation in a rebellion led by the Earl of Argyll were deported from Scottish jails to East Jersey.
The Lowlands of Scotland (the east and south parts) originally were inhabited by people partly of Teutonic origins; while the Highlands (center and west parts) were the home of a Celtic population that had come from Ireland in the 6th Century. So even though you may have Scottish roots, they may be quite diverse, and in American pedigrees it is possible to find several ancestors of Scottish origins—some from the Lowlands and some from the Highlands.
By the 1760s emigration from the Highland of Scotland increased and the reason often given was the raising of rents in their homeland. It is estimated that about 25,000 came between 1763 and 1775. A few went to Nova Scotia and Prince Edward Island, but the great majority settled in the 13 colonies. At the time of the American Revolution most Scottish colonists, especially the Highlanders, were loyalists. Afterward many of them left the United States, to settle in Canada or return to Scotland.
At the time of our first federal census (1790) people of Scottish (including the Scots-Irish) origins made up more than six percent of the population, numbering about 260,000.
After the Revolution, most Scots immigrated to Canada rather than the United States. However, many of them later came to America from Canada. A total of 478,224 Scots entered the United States between 1852 and 1910 according to official figures.
Most Scots settled in the Southern and Middle Atlantic states in the 17th and 18th centuries. The men who were transported as rebels or as criminals were sent mainly to Massachusetts, New Jersey, Maryland, Virginia, and the Carolinas.
The settlements of the Highlanders were the Cape Fear River and its tributaries in North Carolina; and in South Carolina and Georgia. Others made their homes in the Mohawk Valley of New York. By the 1790 census Pennsylvania, Virginia, and North Carolina had the highest proportion of Scottish stock among their inhabitants.
The Scots are often credited with being the forerunners of the western migration of America for by 1773 there were Scots in Kentucky and by 1779 they were across the Ohio River. Descendants of the North Carolina Scot settlers were pioneers in Tennessee and Missouri. Some Scots settled in Texas as early as the 1820s. They also left the East to settle in Michigan, Indiana, Illinois and the Mississippi Valley. Detroit and Chicago had large numbers of Scottish pioneers; with some of Detroit's Scots coming via Canada. They were among the first non-Spanish inhabitants of California with the gold rush of 1849 luring more of them to that area.
Most of the Scottish settlers who came prior to 1854 came from the region of Glasgow, Lanark, Renfrew, and Ayr (21.7%) or Argyll (13.9%). Others came from Edinburgh and Lothians (10.6%), Inverness (9.3%), Southwest (8.9%), and Perth (8.7%).
Many of the Scots who came early to this country were traders or merchants, and some were not permanent residents. In the late 18th and early 19th centuries. Scottish immigrants were often skilled workers or craftsmen. Many were jewelers, gardeners, miners, clerks, shopkeepers, printers, bakers, butchers, cooks, barbers, saddlers, and some were wigmakers and portrait painters. The early Scots were active in printing and publishing. It was said in 1773 that the Virginians imported all their tutors and schoolmasters from Scotland.
Prior to 1855 the most numerous group of skilled craftsmen to immigrate were weavers, including a good many female spinsters or textile workers.
If your immigrant Scot ancestor came to America in the 18th Century, he probably was Presbyterian; though a fair number of the Highlanders were Roman Catholics and some Scottish Episcopal clergy came to America.
The Scots in young America developed new religious sects of their own. Among which were the Glassites, who attempted to return to primitive and apostolic models. They became known as Sandemanians in America, named after Robert Sandeman (1718—1771), a son-in-law of the founder.
Education was widespread in Scotland and you will find most of your Scot ancestors were literate. As early as the 17th Century the immigrants were writing letters home telling of their success and prosperity and describing the beauty and richness of their settlements. Many successful settlers sent funds back to the old country to enable family members to follow—wife or sweetheart, brothers and sisters, and sometimes ultimately the parents as well. The Scots tended to immigrate as families rather than individuals.
Scottish immigration had a fair chance of finding fellow Scots when they arrived and frequently obtained assistance from some of the Scottish societies that had been formed here to assist newcomers. Knowledge that such societies existed may well have helped to focus the minds of emigrants on certain areas. The Scots Charitable Society of Boston, founded in 1657, was the forerunner of associations whose purpose was partly charitable. These associations helped to smooth the path of emigrants from Scotland. Others were located at Philadelphia, New York and Savannah, Ga. The first St. Andrew's Society is believed to have been founded in New York in 1763.