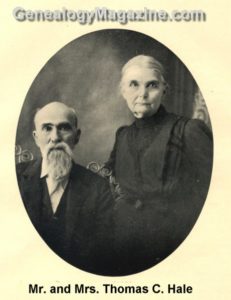 THOMAS C. HALE represents one of the early families of Texas and now makes his home near Saint Jo, where he is numbered among the leading and influential citizens. He was born in Middle Tennessee, July 31, 1833, and is a son of Wilson and Nancy A. (Crutcher) Hale, both of whom were natives of Virginia. They were married, however, in Tennessee and were of Scotch-Irish descent. The maternal grandfather of our subject was Thomas Crutcher, also a native of Virginia, who in pioneer days removed to Tennessee, where he became a prominent and popular planter. In 1837 he removed westward to Texas, settling in Bowie county, where he was elected and served for a number of years as county clerk. Subsequently he returned to Mississippi, where his remaining days were passed. He served his country in the war of 1812 and was a man of good business ability, strong mental endowments and genuine worth. His wife died in Tennessee, but his children all died in Texas, save one, who passed away in Mississippi. These were: Margaret, the wife of William Sanders; Elizabeth, the wife of W. H. Moore; Mrs. Susanna Baker; Mrs. Paulina McWhorter; Mrs. Anne Hale, and William. It was Mrs. Sanders who remained a resident of Mississippi.
Following his marriage, which occurred in Tennessee, Wilson Hale settled upon a farm there and was meeting with a gratifying measure of prosperity when he became ill and passed away in the prime of life. He had served as a soldier in the Seminole war and was an enterprising and public-spirited citizen, highly respected for his genuine worth. His widow afterward accompanied her father on the removal to Texas and established her young family in the Lone Star state, believing that better opportunities might be enjoyed here. She secured a claim, developed a farm and kept her children together, rearing them to positions of respectability. For some time she remained in Bowie county but ultimately exchanged that farm for land in Hill county. After sending three of her children to school she broke up housekeeping and went to Weatherford, making her home with a married daughter until she passed away in 1877 at a ripe old age. She was a consistent and devoted member of the Methodist church. In the family were five children: Catherine, who became the wife of William Lane; Eliza, who married William Shockley; Harriet, the wife of J. Prince; Thomas C.; and James W., who at one time was a merchant in Jefferson, Texas, and later in Weatherford, but is now following farming in Parker county, this state.
Thomas C. Hale was reared in his mother's home and was educated by her. He remained with her as long as she kept house and then entered upon a four years' course in school, meeting the expenses of his tuition by his own labor. He performed the work assigned to him, but acquired little education. Later he was apprenticed to the saddlers' trade in McKinney, and after two years he established a shop of his own at Sherman, conducting it for a year. He next went to Fannin county and there rented a farm for two years, subsequent to which time he located in Honey Grove and resumed work at his trade, being thus employed until 1861. He then began work at a government contractor's shop, but later the entire plant was turned over to the Confederacy and he continued therein until the close of the war, under supervision of Henry E. McCullom, at Bonham.
When the war was over Mr. Hale returned to his old home, but after a short time a gain opened a shop at Honey Grove, where he conducted business with gratifying success for twenty years. In 1883 he arrived in Montague county and bought the old historic farm which had been developed by Dr. Gordon. On this place he has since remained. It is situated at the head of Farmer's Creek and is surrounded by picturesque mountains, constituting most beautiful scenery. The land of the valley is very rich alluvial soil and his farm has been made productive through the care and labor bestowed upon it. Here he has erected a commodious and attractive residence, which stands on a natural building site, commanding an excellent view of the surrounding country. He has also built a number of sheds and other outbuildings and he uses the original Dr. Gordon house for a barn. At one time it was the most spacious home in this part of the county, being a double log cabin with wide entrance between the cabins, and it makes an excellent barn. Mr. Hale has cleared and added to his cultivable land until he is now operating one hundred acres, form which he gathers rich crops. His home is pleasantly located four miles northwest of Saint Jo, and all of the modern equipments are found upon this place. He has planted an orchard, has secured the latest improved machinery to facilitate the work of the fields and also raises some stock.
Mr. Hale was united in marriage to Miss Frances Cagle, who as born in Arkansas in 1839, her parents being Martin G. and Susan (Barkley) Cagle. Her father was a native of Tennessee and an early settler of Arkansas. For a number of years he operated a ferry boat and warehouse at Fulton, Arkansas, and subsequently removed to Lamar, Texas, where he developed a good farm. A number of years later he sold that property and took up his abode in Fannin county, where he purchased a fine tract of land, on which he made his home until his death. He was a leading member of the Methodist church, served as a local minister for many years and lived the life of a devoted, upright Christian gentleman. His political allegiance was given the Democracy. His business affairs were so capably and energetically managed that he acquired a competence for old age and at all times he enjoyed the respect and esteem of his fellow men by reason of his upright business methods. His wife was a daughter of Robert Barkley, a farmer of Tennessee, who removed to Arkansas, and was killed in the Mexican war. He died in the faith of the Methodist church, of which he had long been a member. In the Barkley family were: John, Richard and three others whose names are forgotten. To Mr. and Mrs. Cagle were born eight children: Frances, who is now Mrs. Hale; Robert; Edward; Martha, who died in childhood; John; Martin; Susan, deceased; and Mary, the wife of R. Russell.
Mr. and Mrs. Hale have four children: Martha F., the wife of W. M. Smith; Julia, the wife of William H. Piner; Robert, who died and left one child; and Thomas, who is operating the old home farm. He married Irene McDonald and has four children: J. Robert, Henry, Lizzie and Ethel B. Politically Mr. Hale was formerly a Democrat, but is now independent with socialistic views. Both he and his wife are members of the Methodist church and are widely known in the community because of their genuine worth. In all life's relations and obligations that have developed upon him and in business circles has made an untarnished record.
Source: B. B. Paddock, History and Biographical Record of North and West Texas (Chicago: Lewis Publishing Co., 1906), Vol. I, pp. 442-443.