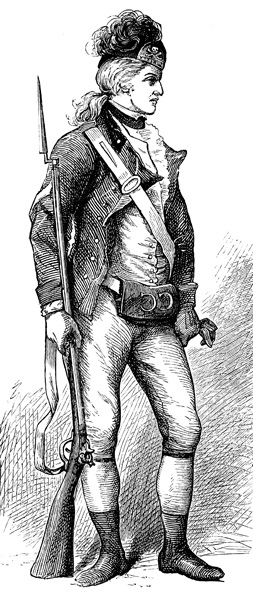 By MYRA VANDERPOOL GORMLEY, CG
COPYRIGHT © 1991, 2007—ALL RIGHTS RESERVED
DO NOT POST OR PUBLISH WITHOUT PERMISSION
If your ancestors lived in America in 1775, you may descend from a Revolutionary War veteran. About 250,000 men, out of a population of about 2.7 million in the Colonies, fought on the American side.
The Revolution generated volumes of records, many of which included detailed genealogical information on the veterans, their wives, and their dependents. Fortunately, many of the records survived. Most of them are in the National Archives, in Washington, D.C.; the archives of states that composed the original 13 Colonies; and university and private archives in those states. There are also records in the archives of a few other states, in city and county agencies, and in French archives.
One kind of record that may provide detailed information on your Revolutionary War ancestor is the pension application. To deter desertion and resignation during the war, the government promised to provide pensions after the war. (The states also awarded pensions.)
There were three types: Disability, or invalid, pensions went to servicemen for injuries sustained in the line of duty; service pensions, to veterans who served specified time periods; and widows' pensions, to women whose husbands were killed in war.
The Continental Congress enacted the first pension legislation on August 26, 1776. The resolution provided half-pay for officers and enlisted men, including those on warships and armed vessels, who became disabled in the service and incapable of earning a living. It specified that half-pay would continue for the duration of the disability.
Another resolution, passed May 15, 1778, provided half-pay for seven years after the war to officers who remained in service until the war ended. Enlisted men who served for the duration received a gratuity of $80.
A Continental Congress resolution of August 24, 1780, comprised the first national pension legislation for widows. It offered half-pay for seven years to widows and orphans of officers.
Over the years, the government passed many other pension acts, and application procedures varied within the act under which a serviceman, widow, or dependent sought benefits. Generally, however, the process (called as "declaration") required the applicant to appear before his or her residence and to describe under oath the service for which he or she claimed a pension. Applicants often had to prove eligibility by providing supporting documents such as property schedules, marriage records, or affidavits of witnesses.
Once applicants established eligibility, their names went on the pension lists. They usually received payments semiannually through a pension agent of the federal government in their state. Applicants rejected under earlier acts often reapplied under later, more liberal laws.
As an example of the information a pension application might contain, consider the application of Michael Treece, obtained from the National Archives. Treece filed his application in 1840, in Jefferson County, Tenn. In the application his participation in the Battle of Brandywine, on September 11, 1777.
He also gives information on his place and year of birth (Northampton County, Pa., about 1759) and notes other counties in which he resided (Rowan County, in North Carolina, and Claiborne, Grainger, and Jefferson counties, in Tennessee.) From these clues, a genealogist could reconstruct his migration and find additional sources of information in the places he lived.
Like many men of German and Swiss descent who fought in the Revolution, Treece explains in his application that "during the whole time I was in the service of the United States and for some time after, I could not talk or understand one word of the English language."
Another example of the details pension applications can reveal appears in the application of Wilson Henderson. He filed for a pension in 1838, at age 76. He not only lists places to which he was posted but notes that the army drafted him at age 15. He says he served under Capt. Robert Frost and fought in the Battle of Eutaw Springs on September 8, 1781, about 30 miles east of Orangeburg, S. C.
Henderson cites all his residences after the war, noting the date of each move. He also includes a copy of his "indent book" (a log that lists payments to a soldier) from records in the Comptroller General Offices, in Columbia, S. C. It shows payments made in 1778, 1780, and 1781.
Other papers in his file indicate he was a Baptist minister and provide his approximate date of death. (The latter fact led to his probate records in Illinois.) Ironically, he died before his pension was approved.
One caveat about pension records: You probably won't find an application for your ancestor if he filed soon after the war. Unfortunately, most of the applications received by the Secretary of War before November 8, 1800, were destroyed by a fire on that date. More applications were lost when the British burned Washington, in 1814.
But you can glean much historical data from later Revolutionary War files. The pension applications of veterans or the affidavits of their witnesses may describe the organization of military units, movement of troops, and plans for campaigns. Some files contain enlistment papers, pay receipts, furlough papers, passes, commissions, warrants, discharges, and other original records. A few files have letters to or by servicemen that give firsthand accounts of military and civil events.
During the war, American forces included many types of military organizations, created by the Continental Congress as well as by states, counties, and towns. So if you do not find your ancestor in the Continental Army, you may locate him in a state or local group.
Military terms can be baffling to those researching their family trees. A typical infantry regiment in the Continental Army might contain eight to ten companies. It had field officers, such as a colonel, lieutenant colonel, and major, as well as a regimental staff, with an adjutant, quartermaster, surgeon, surgeon's mate, paymaster, and chaplain.
There were also cavalry and artillery regiments, similarly arranged. In the cavalry, companies were often called "troops." Artillery companies had special soldiers, including bombardiers, gunners, and matrosses (gunners' mates who helped load, fire, and sponge the guns).
Then, too, there were artificer companies composed of civilian or military mechanics and artisans. These companies often included carpenters, blacksmiths, wheelwrights, harness makers, and coopers.
In addition to a veteran's rank, unit, and period of service, his pension application usually gives his residence, age or date of birth, and, sometimes, place of birth. A widow's application often provides her age, residence, maiden name, date and place of marriage, and date and place of her marriage record in the file. (Sometimes applicants submitted a page from their family Bible that contained information on their marriage.)
Applications submitted by children and other heirs or dependents generally mention their ages and residences. Family records from Bibles and other books submitted with applications may show dates of birth, marriage, and death. In a few pension files, you will find final payment vouchers, which sometimes contain the date and place of a pensioner's death and the names of his or her heirs.
Another record to investigate is the bounty-land warrant. Granted under acts of the Continental Congress and, later, the federal and state governments, the warrants gave veterans and their heirs the rights to free land in the public domain. Like pensions, the warrants served as inducements to get and keep men in the service. Note, however, that while some recipients settled on bounty land, others chose to remain in their homes and sell their warrants.
If you know the name of your ancestor and the state or states in which he resided during the Revolution, you can have the National Archives search for copies of military, pension, and bounty-land records <http://www.archives.gov/>. Pension claim files for service from the American Revolution to pre-World War I and Bounty-land warrant applications for federal military service before 1856 can be ordered online or use NATF Form 85. <http://www.archives.gov/veterans/military-service-records/pre-ww-1-records.html>
To learn more about your ancestor's military service during the Revolutionary War, order the pension application files. The military service records and pension application files have been interfiled for Revolutionary War veterans. Therefore, you will receive both products by ordering the complete pension file from National Archives.
Once you have some information on your Revolutionary War ancestor, you can visit archives, libraries, and other repositories to gain more details about his life. To learn about the battles in which his regiment participated, consult the Encyclopedia of the American Revolution, by M. M. Boatner III. Check local public and university libraries for additional information on battles and campaigns. You may also find military details in the histories of states that were once Colonies; university presses have published many of these accounts.
In addition to general listings of Americans in the Revolution, there are numerous compilations of special groups, both American patriot and British sympathizers. Notable among the patriot listings are those of prisoners, women, chaplains, blacks, medics, the Irish, and the French. The major groups that sided with the British were the American Loyalists and the German mercenaries hired by the British, and you can find listings of them, as well.
Checking libraries and archives under such subtopics as "Revolutionary War—history of" can lead you to sources that will help fill in the historical background of your family and trace its role in the war for independence.