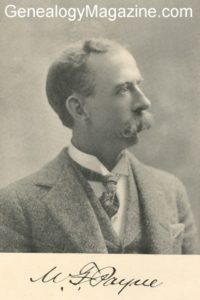 W. FLOYD PAYNE, a successful business man and the promoter of various business interests of importance in the development of El Paso and this section of Texas, was born in Prince George county, near Petersburg, Virginia, September 17, 1861, his parents being David H. and Ann E. (Pace) Payne, both of whom were natives of Virginia, representing old families of Virginia. The father was born in Berkeley county, while the mother was born in the city of Petersburg. The Payne home was located almost between the firing lines of the two opposing armies in the operations around Petersburg in the Civil war, lying in that district known as the Crater, where thousands of soldiers rushed into the mines at Petersburg, and which took place on the Riddick farm adjoining the Payne homestead. The residence of the Paynes was shot through with cannon balls and other missiles and had to be abandoned at the beginning of hostilities, the family first taking refuge in an old tobacco factory at Petersburg and then going to Abingdon, Washington county, Virginia. David H. Payne spent his last days in Denver, Colorado, and his widow passed away in El Paso.
W. Floyd Payne was a youth of ten years when he accompanied his parents on their removal to the west in 1872. He spent some time in Denver, Colorado, and on the buffalo range between 1872 and 1876. The family home was maintained in Denver during its pioneer existence when it was a very small place. Although W. Floyd Payne is the youngest of the Payne brothers he was the first to locate in El Paso, arriving here in March, 1886, in company with his brother-in-law and sister, Mr. and Mrs. William S. McCutcheon. There are now four of the brothers in El Paso, Jesse B., Frank H., David M. and W. Floyd. One sister, Katherine, became the wife of Dr. Alward White, but both are now deceased. They left three children, who are living in El Paso: Dr. Alward H. White, who is surgeon of the El Paso Smelting Company; Owen P. White, of the firm of Wise & White, and Miss Leigh White, a prominent society young lady of this city. The second sister, Frances D., is the wife of W. S. McCutcheon, who resides at Mineral Wells, Texas, but retains his business interests here. The third sister living in El Paso is Ann Leigh, the wife of J. N. Hughes, and they have six children, Ernest P., Frank A., Ann, Frances, David and William.
On arriving here in 1886 Mr. Payne of this review was associated with his brothers-in-law in the firm of McCutcheon, Payne & Company, the third member being Dr. Alward White, now deceased. They became wholesale dealers in grain, flour and machinery and from the beginning the enterprise prospered and soon a large and profitable trade was accorded the house. Mr. Payne continued his connection with the business until 1902, when the firm was succeeded by Messrs. Wise & White. In the meantime he had extended his efforts to many other lines. He organized the Vinton Brick & Tile Company, incorporated, whose plant is seventeen miles north of El Paso on the Santa Fe railroad, and which furnishes most of the white brick for the building operations of the city at the present time. He is also a member of the firm of the Payne-Badger Company, dealers in fuel and building materials and one of the most prominent houses in this line in El Paso. He is a director in the El Paso Ice & Refrigerator Company, and local director of the Rio Grande & El Paso Railroad Company, a part of the Santa Fe System, president of the McCutcheon-Payne Company, and a stockholder in the American National Bank and also in the Rio Grande Valley Trust Company recently organized. He and his brother-in-law, Mr. McCutcheon, are among the largest owners of valley lands north and south of El Paso in the Rio Grande valley, which is to come under the ditches of the new irrigation works under government direction and now in course of construction, the dam being located at Elephant Butte, nearly one hundred and ten miles north of El Paso, in New Mexico. Mr. Payne was for some years vice president of the East El Paso Town Company, whose operations have resulted in building up what is now the thickest settled subdivision of El Paso. He was also the organizer and one of the directors of the North El Paso Town Company, which will probably place its lots on the market in 1906, being now engaged in the improvement of that property. He is sole agent of the D. M. Payne subdivision in El Paso, which is being sold off very rapidly, and he represents the loan department, making loans in this territory for the State Life Insurance Company of Indiana. In addition to all these business connections he has his individual operations in real estate, insurance, loans, mines, cattle, timber land and ranches, and to his varied business interests devotes his time and attention, being today one of the busiest men of this section of the state. He is also a stockholder in the Shelton-Payne Arms Company.
Aside from individual and corporate interests resulting in personal profit Mr. Payne has directed his labors into lines of activity that have been of marked benefit to the city. He is one of the directors of the Providence Hospital, the finest institution of this character in El Paso. He was at one time a member of the El Paso city council and served for a portion of a term as mayor, filling out the unexpired term of Robert Johnson. During the period that he was mayor no public gaming was tolerated, and Mr. Payne has always taken an active part in the fight against gambling, there being no public gaming places in the city of El Paso at this time. He gives his official duties the same careful consideration and keen discrimination that are shown in the management of his private business interests and the city has profited along many lines by his active co-operation and substantial support. He has served successively as president of the Border Wheelman's, El Paso Athletic, and Franklin clubs, which succeeded each other in the order named.
Mr. Payne was married in Denver, Colorado, to Miss Lena Allen, a native of Maine, who, after being a resident in New York, removed westward to Denver. They have a daughter, Miss Carolyn Kathryn Payne.
In various other ways Mr. Payne has been prominent in the social and business life of the city and is one of its most valuable and public-spirited promoters. His life has been one of continuous activity in which has been accorded due recognition of labor. His interests are of thorough benefit to the southwest and at all times he is ready to lend his aid and co-operation to any movement calculated to benefit this section of the country or to advance its wonderful development. He has won well merited distinction through the extent and scope of his operations, his recognition of opportunity and his promotion of interests of varied nature and mammoth proportions. A life of such intense and well directed activity well entitles him to rank with the "captain of industry" in Texas.
Source: B. B. Paddock, History and Biographical Record of North and West Texas (Chicago: Lewis Publishing Co., 1906), Vol. I, p. 383-384.