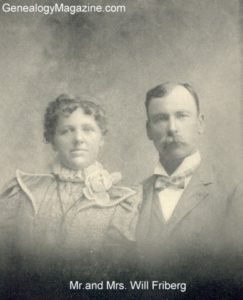 WILL FRIBERG. Texas owes its growth and prosperity in large measure to its farming and stock-raising interests and of this business Mr. Friberg is a worthy representative and, moreover, he is a self-made man, who came to Texas with no capital, and during an active business career won enviable success, working his way steadily upward to a position of affluence. He was born in northwestern Indiana in 1859, a son of John and Mary (Anderson) Friberg, both of whom were natives of Sweden. They came to the United States in the early '50s, locating first in northwestern Indiana, but just prior to the Civil War they removed to Iroquois county, Illinois, settling upon a farm there. There the father carried on agricultural pursuits until the inauguration of hostilities, when in 1861 he joined the army and served throughout the entire war with Sherman's command, participating in many important battles with that famous commander. When the country no longer needed his services he returned to his home in Iroquois county. He prospered in his undertakings there. He removed to that locality at an early day and purchased land for a dollar and a quarter per acre.
As the county became more thickly settled this increased in value and his improvements made his place an attractive and fine farm. In January, 1882, he came to Texas in search of a location and decided upon Wichita county. Here he was soon afterward joined by his family and he has since lived in this part of the state, being now one of its representative and prominent agriculturists. He lives one mile north of Wichita Falls and that his life has been an active and enterprising one is indicated by the many excellent improvements which he has placed upon his farm, making it a model property of the community. One of his sons, J. E. Friberg, is the owner of a farm and stock ranch near the home of his brother Will, above seven miles northeast of Wichita Falls.
Will Friberg was reared under the parental roof upon the old homestead farm and through several years he has been numbered among the successful agriculturists and stockmen of his county. When he came here soon after his father's arrival he secured employment as a farm hand, working on the cattle ranch of Knott Brothers, and he broke the first piece of land that was placed under the plow north of Wichita Falls. Later he ran a stage from Wichita Falls to Seymour when there was only one house between the two towns. The country was then a typical western frontier district. Little improvement had been made and the work of progress lay largely in the future, but there came to this section of Texas men of enterprise, strong determination and keen discrimination, and they have so directed their labors as to produce excellent results and aid materially in the upbuilding of this commonwealth. Although Mr. Friberg had no capital when he came to Wichita county he soon began to save form his earnings and as his financial resources increased he invested in property and is now the owner of a fine farm comprising three hundred and seventy-nine acres of rich land. The homes of Will Friberg and his brother are near the Friberg church and school, which were named in honor of the family, they being among its earnest and liberal supporters. The church is of the Methodist denomination and both the church and school are good buildings and in a fine location. It is also worthy of note that Mr. Friberg, in connection with his father and brother, had the first threshing outfit in Wichita county, using at first a horse power thresher. They were also pioneers in the wheat growing industry of this locality and their other business activity and enterprise have contributed in large measure to the substantial growth and improvement of this portion of the state.
Mr. Friberg was married in Illinois to Miss Katie Bard, and they have five children: Letta, Harley, Minnie, Clarence and Ernest. The family is well known in the community and Mr. and Mrs. Friberg have many friends. He certainly deserves a great deal of credit for what he has accomplished and his life record should serve as a source of inspiration and encouragement to others, showing what can be accomplished by strong determination and honorable purpose.
Source: B. B. Paddock, History and Biographical Record of North and West Texas (Chicago: Lewis Publishing Co., 1906), Vol. II, pp. 386-387.