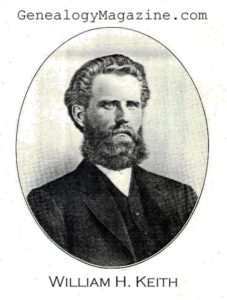 William H. Keith is a well known farmer of Burritt township, living on section 31, where he and his sister have a valuable farm of three hundred and forty-five acres, ten miles west of Rockford. This was his birth place, his natal day being May 18, 1848. He traces his ancestry back through several generations to Peter Keith, his great-grandfather, who came to Rockford in 1836. He found a little village of a few buildings standing in the midst of broad prairies which were largely uncultivated, much of the land being still in possession of the government. He came to Winnebago county in company with his son, Adam Keith, who was born in Pennsylvania in 1795 and who became a pioneer settler of Ohio, Indiana and Illinois. He arrived in Rockford in 1836 and he kept moving westward in the advance guard of civilization and spent his last years on the frontier in Furnas county, Nebraska, where he died in 1883. He was well-fitted to cope with the hardships and difficulties incident to pioneer life and he aided in planting the seeds of civilization and progress in various districts in four states to which he went as a frontier settler.
Adam Keith, father of our subject, was born November 7, 1825, in Ohio and was a youth of eleven years when brought by his parents from Indiana to Illinois. He lived in Rockford with his father until 1847, when he entered a homestead claim from the government and began its cultivation. Not a furrow had been turned and the breaking plow was soon put to use. The seed was then planted and in due course of time crops were harvested and thus the work of cultivation was carried on year after year until he transformed his place into a valuable farm property, living thereon up to the time of his death, which occurred on the 25th of June, 1896, when he was in his seventy-first year. His life was a busy and useful one and all who knew him respected for his genuine worth and his many sterling traits of character. In 1860 he served as township supervisor but while he was never remiss in the duties of citizenship he cared little for public office, feeling that the daily work of the farm was worthy of his best efforts and his undivided attention. He married Martha Holmes, who was born in Bradford, England, and died in Rockford, January 20, 1864. For his second wife he chose Nancy Hilton, who was born May 10, 1842, and died on the 7th of September, 1869. The brothers and sisters of William H. Keith are as follows: Elizabeth, who was born February 14, 1847, and in 1871 became the wife of J. L. Dickerson, now living in Oklahoma; Martha, who was born in 1854 and is living upon the old homestead with her brother William; Jessie, who was born May 29, 1858, and in 1884 became the wife of Fred Putney, now living in Indian Territory; Nancy E., who was born on the 17th of September, 1868, and died in 1885 became the wife of Fred Whiting, who died, and in 1901 she married Jesse Hopkins, their home being on in St. Paul, Minnesota.
William H. Keith, whose name introduces this review, has spent his entire life upon the old homestead farm on section 31, Burritt township, save for the period of ten years which he passed in Hayes county, Nebraska. He has always carried on general agricultural pursuits and he and his sister Martha have a valuable place, the fields being well tilled, while the farm is equipped with many modern accessories and conveniences. Mr. Keith is also well known in connection with public interests of his community, to which he has always been most loyal. He was supervisor of his township from 1876 to 1879 and is again serving in that capacity. In politics he is a democrat but believes in supporting the best man for office.
Source: Charles A. Church, Past and Present of the City of Rockford and Winnebago County, Illinois (Chicago: S. J. Clarke Publishing Co., 1905), p. 407.