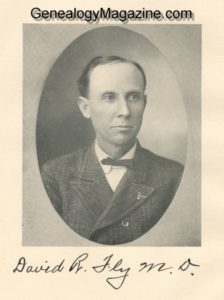 DAVID RICHARD FLY, A. M., M. D., physician and surgeon of Amarillo has made a conspicuous success in his profession, and his reputation is by no means confined to the immediate locality of his practice, for he is well known throughout North and Northwest Texas. His principal accomplishment form a public standpoint, perhaps, has been his exploiting of the advantages of Amarillo as an ideal place, climatically considered, for the cure of tuberculosis, and to this dread white plague he has devoted a large portion of his professional investigation and study. He is author of the phrase "vampire disease," as applied, so fitly descriptive, to tuberculosis. He is known as the principal promoter of the St. Anthony's Sanitarium at Amarillo, an institution which has already enjoyed much success and undoubtedly has as large range of usefulness before it. Dr. Fly has a large private practice in medicine and surgery, and is one of the most progressive and energetic Aesculapians in the state. Besides the large spheres of work implied in the above statements, he has done much toward effective organization of his professional confreres and the promotion of the esprit de corps so essential to any class of men whose lives are devoted to work largely outside of selfish pursuits.
Dr. Fly is, withal, one of the younger members of his profession. He was born at Water Valley, [Yalobusha County] Mississippi, October 15, 1865, belonging to a family of long and honorable ancestry. The paternal line originated in Wales, where his great-grandfather was born. His grandfather, Dr. Joshua Fly was also a physician. Dr. Fly's father was Judge Anson B. Fly, who was born in Maury county, Tennessee, but in boyhood accompanied his parents to Water Valley. He was one of the successful and foremost jurists in chancery of Mississippi. Judge Fly died at Water Valley in 1894. His wife was Mary Jane Giles, who was born in Charlotte, North Carolina, of Scotch-Irish stock, and her death occurred in 1878.
Dr. Fly passed the first sixteen years of his life at Water Valley. During that time he received a good education in the high school, from which he was graduated. At the age of sixteen he went to Galveston, Texas, to live with his brother, Dr. A. W. Fly, a very prominent physician of that city and furthermore active in public life, serving for three terms as mayor of Galveston. While living with his brother he became interested in the study of medicine, and to carry out his purposes he matriculated in the medical department of the University of Kentucky, in Louisville. During his student days he was in poor health much of the time, and in consequence he did not follow up his university course continuously to graduation. In 1892 he sought a salubrious climate and arrived in Amarillo, when that city was in its raw western beginnings, and, after passing the necessary examination before the district board of health, he began practice here. On the 1st of January, 1894, he returned to Louisville to finish his course in the university, and graduated in the spring of the same year. He is also a graduate of the Chicago Post Graduate Medical School and Hospital, of Chicago. He then went to Fort Worth and was given the position of demonstrator of anatomy in the medical department of Fort Worth University, which institution had just been organized. He remained in that position until January 1, 1899. During that time he served for two years as city health officer under General Paddock's administration, and in that capacity he is remembered in Fort Worth for the valuable services he rendered in preventing the entrance of smallpox and other epidemics that threatened the city. He also quarantine physician of Tarrant county.
Dr. Fly had enjoyed exceptional advantages throughout his preparation for his profession, and in medical college was under the inspiration of Dr. Bacon Saunders and other noted surgeons and physicians. From the time of his first residence there, Amarillo had appealed to Dr. Fly as an ideal climate in which to treat tuberculosis of the lungs, and also for convalescence following surgical operations, and in January, 1899, he decided to relocate in this city. He has been a very busy practitioner since coming here, and his skill and ability have brought him great success and prominence. He is surgeon for the three railroads centering here—the Rock Island, the Santa Fe and the Fort Worth & Denver, and also has a large private general practice.
In February, 1901, he organized and established, with the aid and under the management of the Sisters of Charity of the Incarnate Word, St. Anthony's Sanitarium at Amarillo, which is now flourishing institution, and of which Dr. Fly is chief of staff. The building, in its construction and equipment, is modeled after the most approved hospital construction in the east, and is noted for the conscientious care and attention paid to its patients. Operative surgery here is unusually successful on account of the purity of the atmosphere and the absence of pathogenic bacteria—the bete noir of modern surgery.
Dr. Fly organized and is president of the Panhandle Medical Association, the meetings of which are especially interesting and valuable to its members. He is also a member of the State and of the American Medical Association and in the latter he is a member of the congressional committee on national medical legislation, representing the thirteenth medical legislation, representing the thirteenth congressional district of Texas. He is a member of the International Association of Railway Surgeons and the Rock Island and the Santa Fe (Railroad) Surgical Associations, and is councilor for the Panhandle District of the Texas State Medical Association. As a member of the International Congress on Tuberculosis he was a Texas state delegate to the meeting of that congress at St. Louis in the fall of 1904. The treatment and cure of tuberculosis are his highest professional ambitions and he is an authority on several phases of that scourge. He has written papers on the subject for medical journals. In particular his sympathy goes out to the great number of poor people—an increasing host every year—afflicted with consumption and thus isolated from society but without means to procure relief or treatment. He sees here one of the greatest objects of philanthropy, and has bent his efforts toward securing a permanent institution or endowment which would help meet the difficulty. In this connection he made a strong appeal to Andrew Carnegie to furnish means for establishing a tuberculosis sanitarium for poor people at Amarillo or at some other equally favorable point, but so far without success.
Dr. Fly is president of the medical examining board of pensions at Amarillo. He has been granted the honorary degree of A. M. by the Amarillo College, in which institution he is lecturer on anatomy, physiology and hygiene. He is also still retained as a lecturer on the staff of the medical department of the Fort Worth University, where his subject is anatomy. His fraternal connections are with the Benevolent and Protective Order of Elks and the Knights of Pythias. He served for a year or two as president of the Amarillo board of trade, and is now vice president of the same. Throughout the period of his residence here he has been a very active and enthusiastic citizen in spreading abroad the advantages of Amarillo and vicinity, not only form a climatic but from a business point of view, and in various ways has contributed to the permanent growth and welfare of his adopted city.
In 1889 Dr. Fly was married, at Dallas, to Miss Lizzie Miller, a sister of State Senator Barry Miller, of that city. Miss Miller was a prominent society leader of Dallas, and the wedding was one of the social events of the yearly calendar.
Source: B. B. Paddock, History and Biographical Record of North and West Texas (Chicago: Lewis Publishing Co., 1906), Vol. II, pp. 639-641.